Reliable tools and services for your animation needs.
Red9 offers cutting edge production services, rigging, facial, tool solutions, bespoke workflows and support to the animation industry.
Latest Work
Red9 are always working on a vast array of exciting projects. For the latest tools update please check our news section.
Our Clients
We support a vast array of clients both big and small, from game and VFX to film. Some clients come to us for full pipeline support, some need body  or facial rig assets and others use us as a sounding board. Whatever it is we have you covered.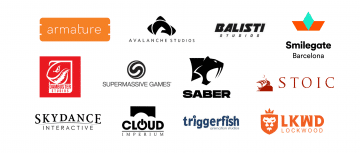 Red9 Founders
Mark Jackson
Mark is a CGI veteran, starting his career in Post Production back in the early 90's. He moved into games in 1996 and become the R&D manager for Eurocom Entertainment, at the time one of the largest independent games studios. In 2013 he became the Technical Animation Director for Crytek focusing on facial animation research. Mark started our open source Red9 StudioPack in frustration of having to re-write pipelines from scratch at each studio and this is still the core of our systems today.
Franco Bresciani
Franco has over 20 years of experience in CGI and trained at the Vancouver Film School. After leaving he was involved in many film and VFX productions before he met Mark in 2005 when he joined the R&D team at Eurocom Entertainment. During this time he worked on many AAA+ games and became focused on pipeline development and coding. He subsequently joined Crytek Frankfurt as Senior Technical Animator around the same time as Mark and the 2 continued to work closely together, all be it at different studios.